'How is little John?' Joseph asks
'He is growing as strong as a little colt. But he is teething now and he is suffering a little which is why we did not want to bring him. It is very cold, which is why Elizabeth did not come either. She could not leave him without milk. She was very upset but the season is so harsh!'
'It is harsh indeed!' agrees Joseph.
'The man you sent me said that you were homeless when He was born. You must have suffered a lot.'
'Yes, quite a lot. But our fears were greater than our discomfort. We were afraid for the Child's health. And we had to stay there for the first days. We lacked nothing for ourselves because the shepherds spread the good news to the people of Bethlehem and many of them brought us gifts. But we had no house…not even a decent room…a bed……and Jesus cried so much, especially at night because the wind blew in from every direction. I used to light a little fire…only a little one because the smoke made Jesus cough…and it was still cold anyway. Two animals do not give much heat especially when the cold air comes in from every direction!…. ….We had no warm water to wash Him with. Nor dry clothes to change Him. Yes, he suffered quite a lot! …And Mary suffered seeing Him suffer. I suffered…so you can imagine His Mother's anguish! She fed Him with milk and tears…milk and love. Things are much better here now. …I had made Him such a comfortable cradle and Mary had fitted it with a soft little mattress. But it's in Nazareth! Ah! If He had been born there, things would have been much different!'
'But Christ was to be born in Bethlehem. It was prophesied'
Mary hears their voices and comes in, all dressed in white wool, without a veil and holding Jesus in Her arms, asleep in His white swaddling clothes. Zachariah stands up reverently and bows in adoration. Then, respectfully, he approaches, bowing in homage to the Child Mary offers him. And then, still adoring Him, Zachariah takes Him, in the gesture of a priest holding up the Host already offered to men as nourishment for love and redemption….and that will be sacrificed.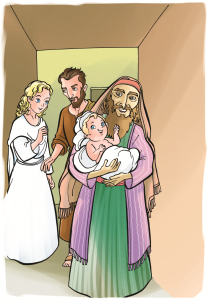 Then Zachariah hands Him back to Mary. They all sit down. Zachariah explains again to Mary, why Elizabeth has not come and how upset she was. 'In the past months, she made some linens for Your blessed Son. I brought them. They are in the wagon downstairs.' says Zachariah, rising to fetch them.
He returns with a large parcel and a small one. Joseph relieves him of the heavier one. Zachariah takes out the gifts from the small parcel: a soft hand-woven woollen blanket, some linens and little dresses. And from the larger parcel: some honey, some snow-white flour, butter, apples for Mary, cakes baked by Elizabeth and many other little tokens of motherly love of the grateful cousin for the young Mother.
'Please tell Elizabeth that I am very grateful to her, as I am to you too. I would have been so happy to see her, but I understand the situation. And I would also have loved to see little John…' says Mary to Zachariah.
'But you will see him in Spring. We will come and see You.' 'Nazareth is too far away' remarks Joseph.
'Nazareth? But you must stay here. The Messiah must grow up in Bethlehem. It is David's town. The Most High, through Caesar's will, brought Him to the town in David's land, the holy land of Judea. Why take him to Nazareth? You know in what opinion the Jews hold the Nazarenes. This Child is to be, in future years, the Saviour of His people. The capital town must not scorn its King because He comes from a despised land. You know as well as I do, how disapproving the Sanhedrin is and how snobbish its three main casts are…… ……And then, here, near me, I will be able to help you somehow, and put all I have, not so much in the way of material things, but of moral gifts, at the service of this New Born Baby….. ….And when He is old enough to understand, I will be very happy to be His teacher…as I will be for my own son, so that later, when He grows up, He will bless me…. ….We must consider that He is destined for great things…..and so He must be in a position to present Himself to the world with all the means necessary to win His game. .. …He will certainly possess wisdom. But the simple fact that He was educated by a priest will make Him more agreeable to the difficult Pharisees and Scribes and will make His mission easier.'
Mary looks at Joseph and Joseph looks at Mary in a silent exchange of questions above the rosy innocent head of the sleeping Child. And they are questions full of sadness as Mary thinks of Her little house and Joseph, of his work. And they both wonder how they will start afresh here, where only a few days before, they were completely unknown. Here, they have none of the dear things they left at home, which they had prepared with so much love for the Child. 'How can we do that?' asks Mary 'We left everything there. Joseph has worked so hard for My Jesus, sparing neither labour nor money; he worked at night so that during the day he might work for others and thus earn enough to buy the best wood, the softest wool, the finest linen and prepare everything for Jesus……he built beehives and even worked as a mason to modify the house so that the cradle could fit in my room and remain there until Jesus had grown up and the cradle could then be replaced by a bed, because Jesus will stay with me until He is an adolescent.' 'Joseph can go and get what you left there.' 'And where will we put it? You know, Zachariah, that we are poor. We have only our work and our home. And they both enable us to live without starving. But here…perhaps we will find some work. But we will always have the problem of a house. This good woman cannot give us hospitality forever. And I cannot sacrifice Joseph more than he has already sacrificed himself for My sake!' 'Oh! Me! It's nothing for me! I am concerned with Mary's grief….Her grief in not living in Her own house…' Two big tears well from Mary's eyes.